CLAC´s Strategic Plan
The construction process
CLAC´s Strategic Plan
Introduction
The Latin American and Caribbean Network of Fair Trade Small Producers and Workers (CLAC) begins a new cycle of work with the presentation of the new strategic plan 2022-2024, built in a participatory manner and that outlines the roadmap of where we are going and how we will get there in the next 3 years.
Together with the membership, a new inspiring purpose was built, understood as the basis of what we do, how we do it and why we do it, which has been defined as follows: CLAC is the network of producers' and workers' organizations that leads the promotion of the principles and values of Fair Trade in Latin America and the Caribbean, and we act as agents of change in our own reality, contributing to the construction of a more just, equitable and sustainable world.
The construction process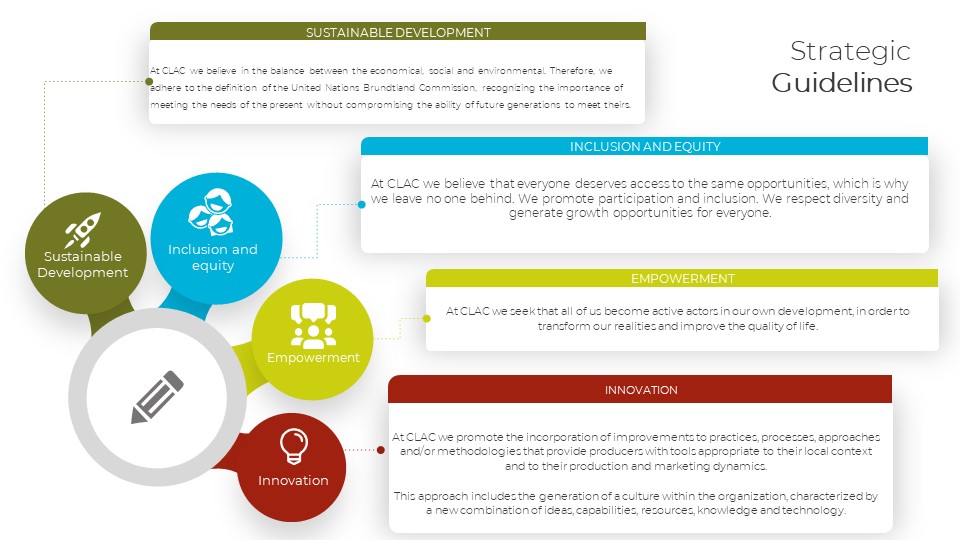 In the strategic planning process, CLAC was characterized as a mestizo woman, who promulgates the values of social responsibility, justice, gender equity, transparency, autonomy, responsibility and will.